New Alberta Abstractions: 
Craig Talbot, Tim Rechner, Tony Baker, and Chrissy Cheung
Inspired by the abstract expressionists of 1950s New York, these Alberta artists view the physical act of painting as being just as important as the artwork itself. In opposition to the formalist methods of the abstract painting prevalent in Alberta today, these artists create by instinct. The subconscious of the artist is freely expressed in each painting.
Learn more about The Works Art and Design Festival
Abstract expressionism flourished between the 1940's and 50's when European artists such as Piet Mondrian and Max Ernst fled to the United States following World War II. As a result of their immigration and subsequent pursuit of art in a new country, the style of these artists heavily influenced painters in the USA and Canada. For the first time, North American art and artists became internationally recognized for their vision and their technique in abstract expressionism. However, the movement itself was not dictated by a specific style, but by an attitude which was characterized by revolt and freedom of expression. Instead of focussing their energy on conventional subjects and styles, these artists valued individual expression and spontaneous improvisation in the composition of their art.
The spontaneity of an abstract expressionist's approach to their art allows the artist to draw from and release the creativity of fthe unconscious mind. The subject of the painting generally becomes the materials or the act of painting itself, intead of a "realistically" rendered still life or scene. The focus of the artists' energies are on the release of emotion by painting rapidly and forcefully, but despite the artists' obviously expressive engagement with their work, not all abstract expressionism is overtly expressive, nor is it all entirely abstract.
New Alberta Abstractions, curated by Tim Rechner, showcases the work of 4 up-and-coming artists; 2 are from Edmonton and 2 are from Calgary. Each has a different background and draws on the group's common influences in a unique way. The exhibition takes its title from the curator's identification of the group's place within the strong Albertan abstract painting scene which took root in the 1960's, but also suggests that the direction and source of these works holds them apart from the readily identifiable Albertan abstract aesthetic. Rechner suggests that "in Alberta, the expressionist quality of abstract painting has often been denied in favour of a controlled, more formalist approach." Like much abstract expressionist work, the artwork in this exhibit focuses on the physical process of painting as well as creating intense and beautiful energies, but has slightly more emotional approach to mark-making and colour application than its formalist counterparts.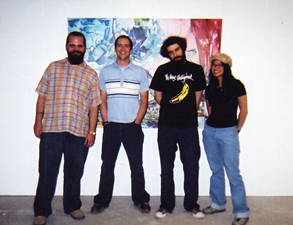 group picture: (starting from left) Craig Talbot, Tony Baker, Tim Rechner, Chrissy Cheung