A VISUAL LANGUAGE- Sept 7- Oct 7 2006
solo exhibition by Chrissy Cheung
Artfirm Gallery, Calgary

My work explores an experience with the language of improvisation in a visual dimension. The paintings and drawings express sounds, the experimental, and the transition of forms. My paintings embrace colour theories where as my drawings present tense grayscale compositions. I give special attention to dots and dashes, as I am attracted to them as an element of texture and simple mark-making. In certain paintings, the canvas string becomes an extension of my drawing. These improvised abstractions can only be fully understood by observing them as their own language.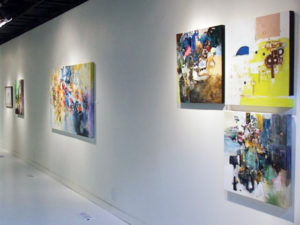 to the left is a triptych from the show, 'a visual language'
top right Posts, bottom Discs, left Midnight Castle