Art News 2023
Want to join Chrissy's arts mailing list? Simply write subscribe in the subject to
chrissy @ observeroftime.com (take out the space)
Thank you for everyone who came to visit my studio at the Culture Crawl in November 2022
---
Art Placement and commission for Gyro Mazda, East York, Toronto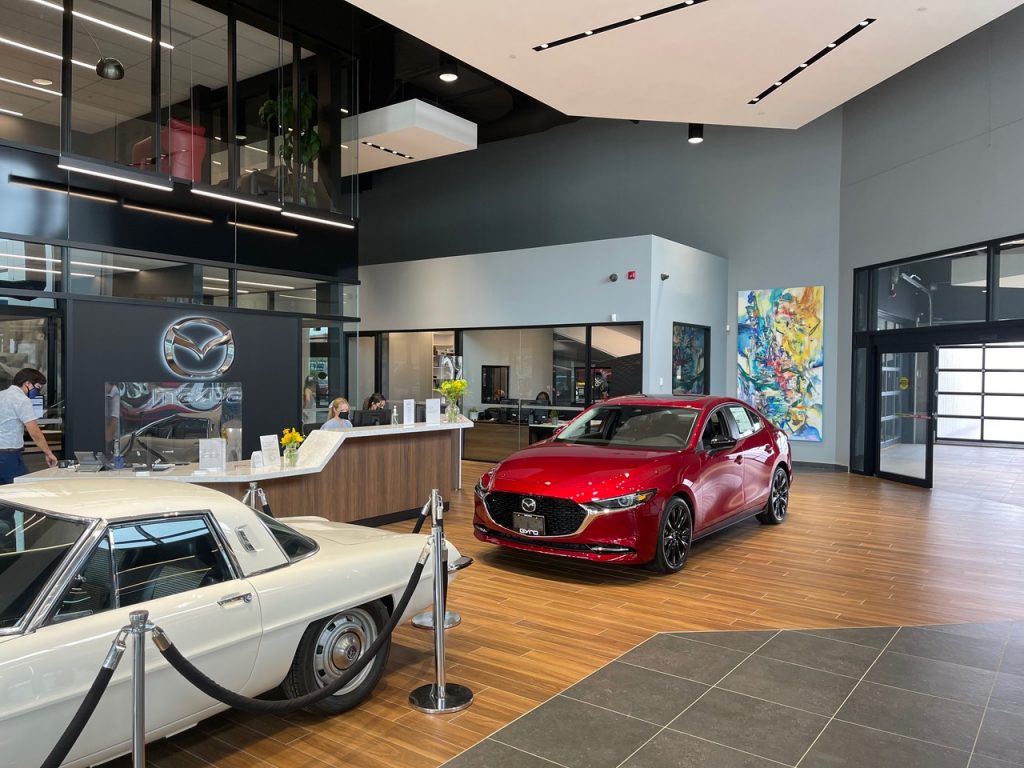 ---
FIGHT OR FLIGHT by PAINTER8 – 2021
There will be amazing artists in the show: Aaron Sidorenko, Adrian Williams, Craig Talbot, Tim Rechner, Beth Pederson, Rafael Sottolichio,  and Tom Cummins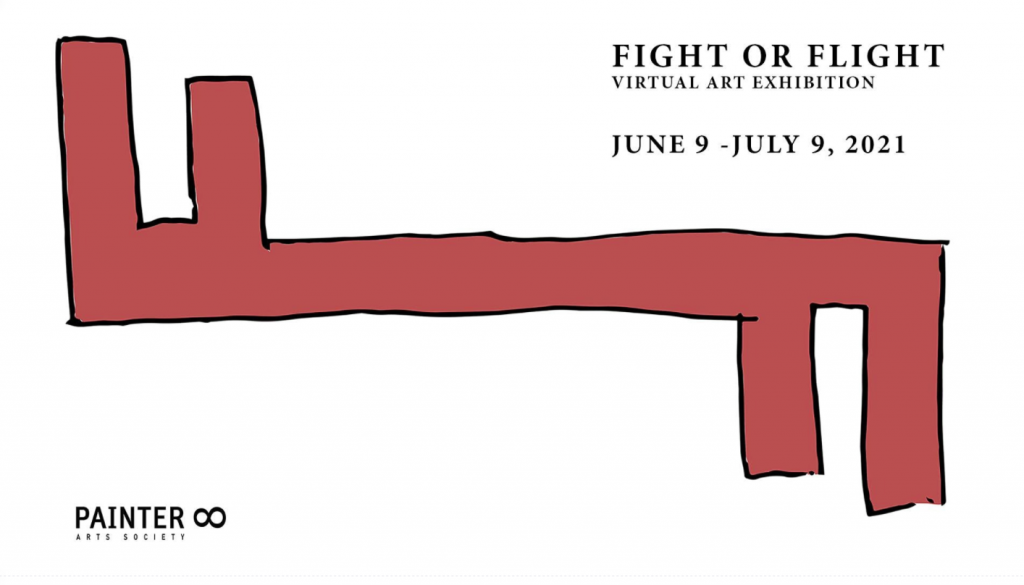 ---
My paintings were previously exhibited at 1, Place Ville Marie, Downtown Montréal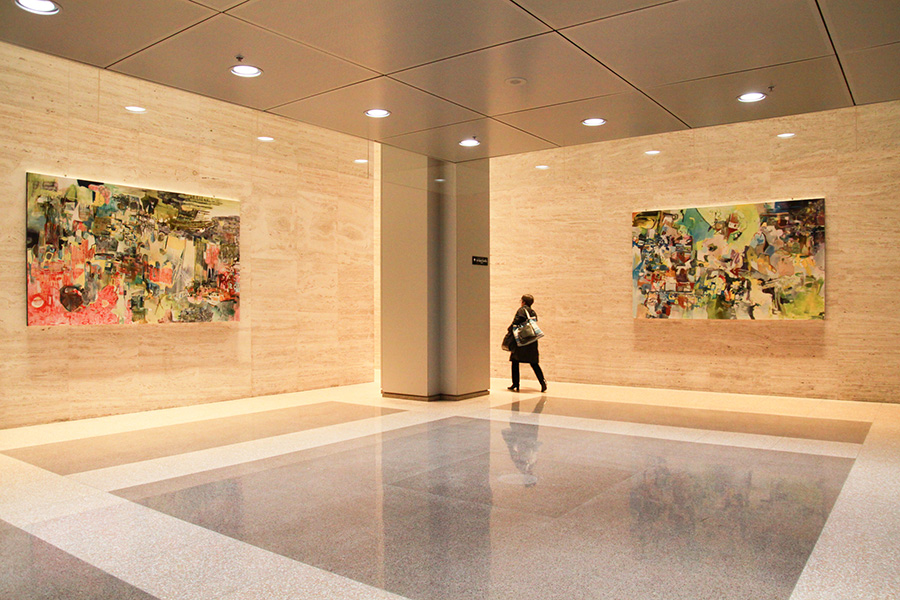 Streaming Light, 6'x 10′ (on left) and Attack, 6′ x 10′ (on right) at 1, Place Ville-Marie
---
Recent article in Creators Vancouver by Elizabeth Newton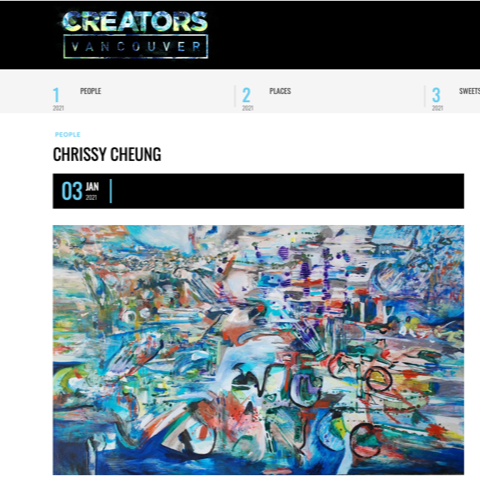 News 2020
---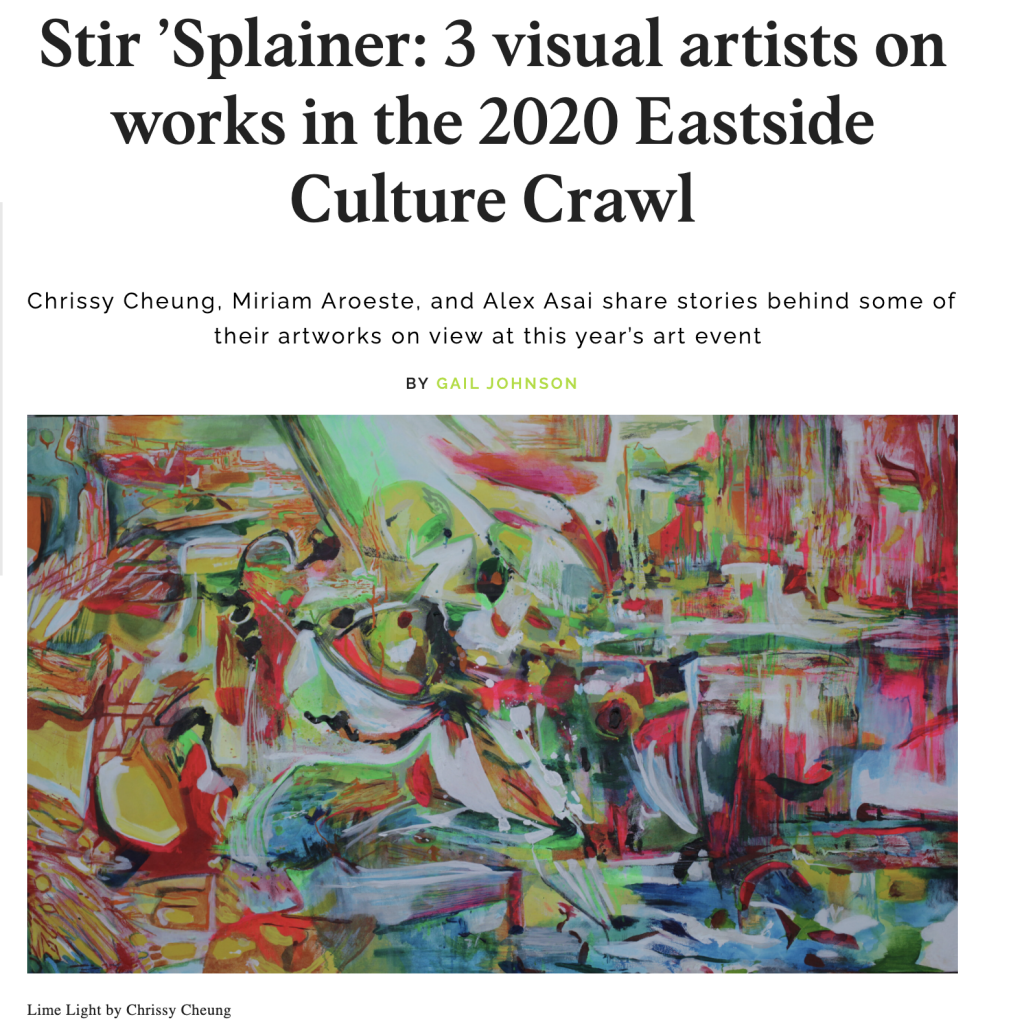 See full article here: https://www.createastir.ca/articles/ecc-stir-splainer
---
Virtual Exhibition on until Sept 14 @ North Van Arts
True Love & Other Works, a collection of abstract artwork that captures the richness and imagination of colours, shapes, and textures. View now, from the comfort of you home:  https://northvanarts.ca/events-exhibitions/true-love-other-works-from-the-art-rental-collection/.
Exhibiting Artists: Kathleen Ainscough, Reyhaneh Bakhtiari, Jessamyn Box, Dianna Burns, Chrissy Cheung, Catherine Fields, Diane Isherwood, Shakun Jhangiani, Allen Klatt, Jennifer Lamb, Joyce Ozier, Roxy Querouz, Barry Shelton, Joan Skeet, Janet Strayer, Fanny Tang, Suzanne Thomson, Robert Will, Karen Woodman.

---
May 1- June 30, 2020
Capulet Art Gallery is pleased to present Pan-Asian Cultural Connections in part with explorAsian, celebrating Asian Heritage Month.  There will be eleven artists representing China, Japan, Korea, Indonesia, Philippines and Iran showcasing works that symbolize the cultures they're from with the experiences they've had as an Asian artist.
The artists include Raymond Chow, Chrissy Cheung, Taka Sudo, William Liao, Farahnaz Samari, Caroline Dahlmanns, Lauren Brevner, Broderick Wong, Jace Kim, Banny Jayanata and Yukiko Adachi.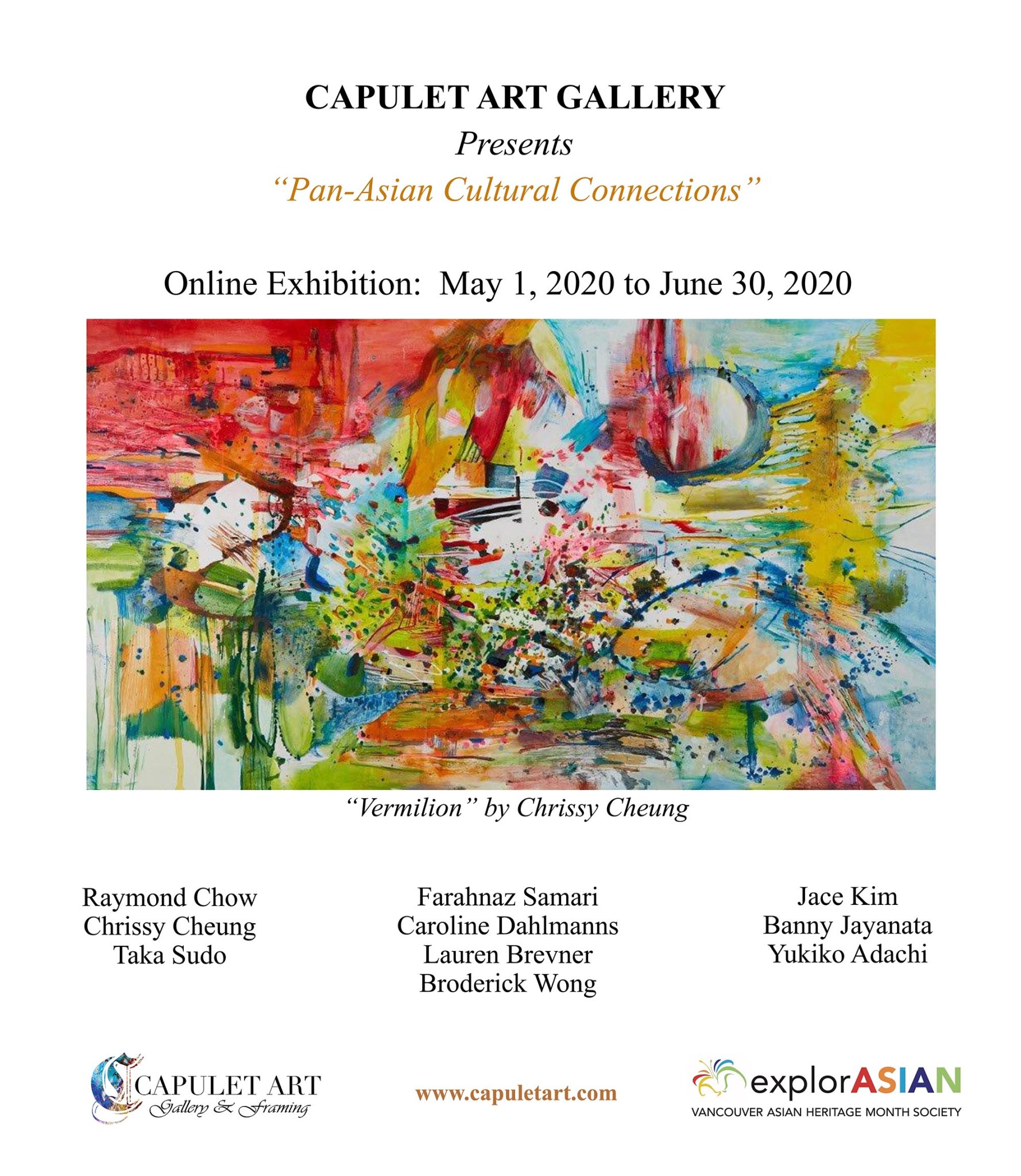 ---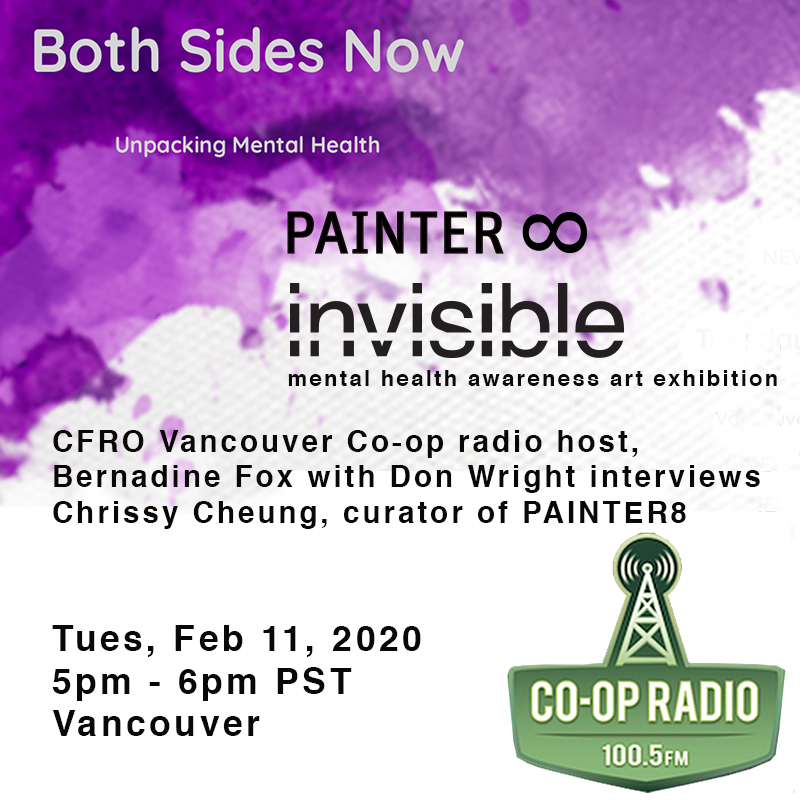 Radio interview with CFRO Vancouver Co-op radio host Bernadine Fox. You can listen here: https://youtu.be/Z5bLh63wMZw
---
News 2019
In July of this summer, I was the commissioned artist to paint the Freebird mural in Vancouver Chinatown with artist, Arvid Wangen. It was located at 188 E Pender St and wraps into the alley.  (one block west from Main St).
Here are some press articles from it: 
https://www.vancouverisawesome.com/2019/09/19/freebird-chicken-chinatown-vancouver/
https://scoutmagazine.ca/2019/09/18/chef-angus-ans-freebird-chicken-shack-softly-opens-today-in-chinatown/
---
MakeMobile Artists' share: Mixing Paint with Chrissy Cheung
I'm the art facilitator on Nov 21. 3 – 6pm
@ Strathcona Community Centre, 601 Keefer St.
---
Thanks to everyone who came out to the Culture Crawl!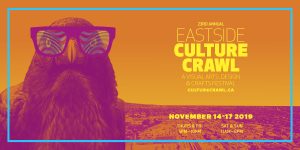 ---
I'm in the Talking Art Series, Eastside Culture Crawl
Nov 7 @ 7 pm- 1000 Parker St.
Chrissy will highlight artistic interpretations of mental illness and stigma within paintings. She will talk about the artist group she curates, PAINTER8 who have  made artwork interpreting anxiety and depression; how these subjects presented in public art exhibitions ("Whisper by PAINTER8" in Miami, "Invisible by PAINTER8" in Edmonton); and using art for public mental health awareness.
---
I'm flying to Edmonton for the opening reception of our artist group, PAINTER8 @ Galerie Cité

Join us! Thursday, Sept 26. @ 7pm- 9pm
over 40 artworks isntalled over 2-floors. Invisible exhibits artistic interpretations of mental illness and stigma.
This exhibition will run from Sept 26 – Jan 11, 2020 .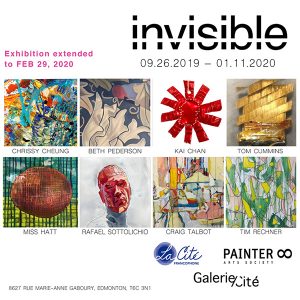 ---
July 18- July 21, 2019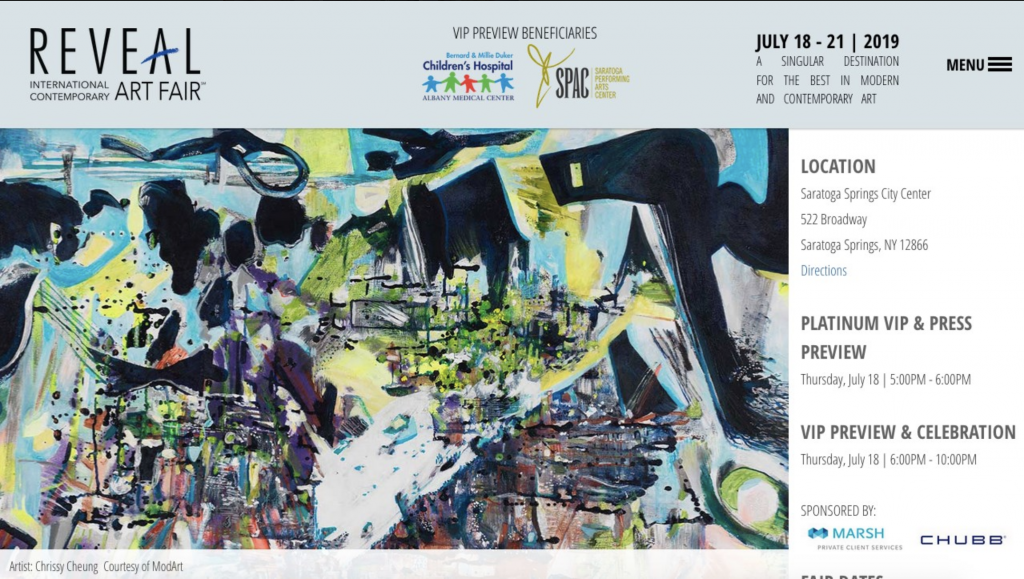 Reveal International Contemporary Art Fair, with ModArt Gallery at Saratoga Springs, New York, USA.
---
July 5 – July 7, 2019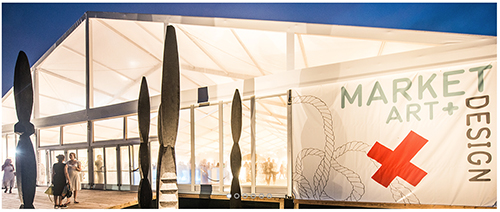 Market Art and Design Fair, Bridgehampton, NY
Look for the ModArt Gallery booth at #618. They are showing my artwork.
I will be there for the opening day and night.
This is a ticketed event.
Plan in advance! Hope to see you there!
---
May 24, 25, 26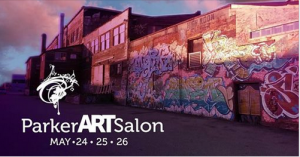 I will be exhibiting alongside of over 50 talented artists in the 5th Parker Art Salon.
Come see the this fine art exhibition! Opening May 24- is a ticketed event
I will be on the 2nd floor.
May 25- 26 from 1pm – 5pm is open to the public. (free admission)
1000 Parker St.
See Facebook event. Click here.
---
Live Painting competition. Battle of the Brush #36: G.O.A.T
Greatest of All Time themed.
I am painting on a team with artist Arvid Wangen!
@ Heritage Hall, Vancouver
Fri, Feb 22, 8:30pm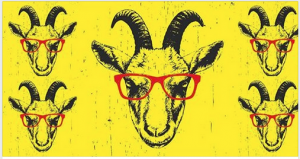 ---
Live Paint Battle @ Harbour Centre, Vancouver
public event: hosted by Opus Art Supplies

---
2018
I got a review from my Artist Lecture!
"Chrissy recently gave an artist lecture at the Port Moody Arts Association. The group learned how to not only see but feel and understand through her lecture. Chrissy's art demo was immensely informative and inspirational.
I like how she took the group on a journey.  It was a visual history lesson on famous painters and their unique styles. Chrissy showed how to grind pigment and make paint. She also had an enjoyable film of why it began like this.  I enjoyed the slide show and the explanation of her paintings; particularly the paintings titled BIPOLAR AND DEPRESSION.  The work had movement, it was fresh and innovated.
We also learned a new take on colour theory. The talk Chrissy Cheung gave was extraordinary.  You could feel the energy and the attentiveness from the audience.  Especially that moment when all the chairs moved forward. The dead silence that followed. You could of heard a pin drop while the members waiting for her to continue."
– Diane Norrie. Nov 5, 2018
Port Moody Arts Association coordinator.
#artistlecture
Oct 28- 7pm-9pm
Guest Lecturer @ Port Moody Arts Association
on PAINTING and Pigments.
---
"Art Party", Seymour Art Gallery, Deep Cove
---
Group show: Transcendence @ Capulet Art Gallery, Richmond, BC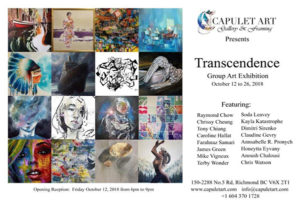 ---
Live Painting competition. I painted on team with artist, Claudine Gévry.
Battle of the Brush #35 @ Heritage Hall, Vancouver
---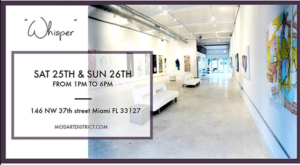 ---
Opening of Whisper with PAINTER8 @ ModArt Gallery, Miami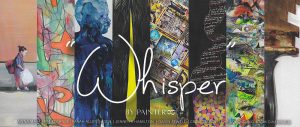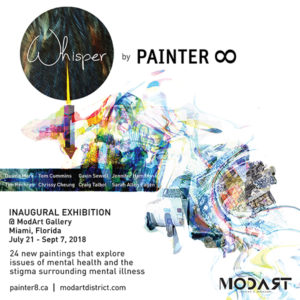 ---
Sliver, Group show with PAINTER8
@ Charles Clark Gallery, East Van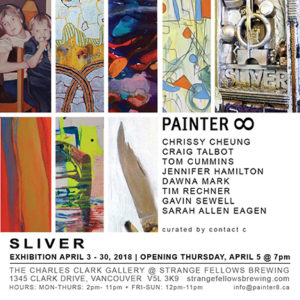 ---
2017
Eastside Culture Crawl, Parker Studios, Vancouver

---
Saucy with PAINTER8 @ Red Gate Arts Society, Vancouver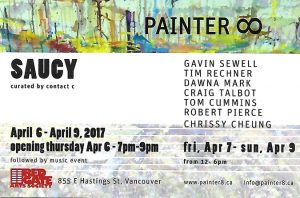 ---
2016
Solo exhibition: Dessins contemporains
@ Maison de la Culture Plateau Mont-Royal, Montréal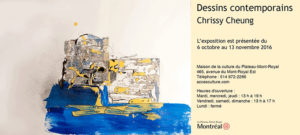 ---
Solo exhibition: Intrigue @ Eleanor Public Art Gallery, Côte St. Luc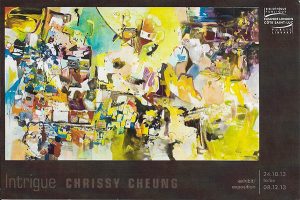 Solo exhibition: Non-séquentiel  @ O Patro Vys, Montreal

Group exhibition: Summertide @ Artfirm Gallery, Calgary

---
2010
Group exhibition: Hommage à la Ville exhibition @ OFF Interarts, Montréal
Curated by Clement Yeh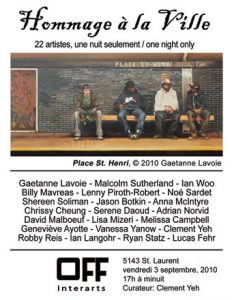 ---
2008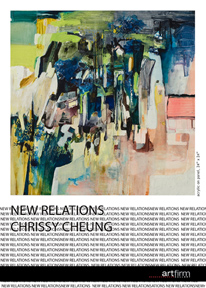 ---
2007
Group exhibition: Alignment @ Artfirm Gallery, Calgary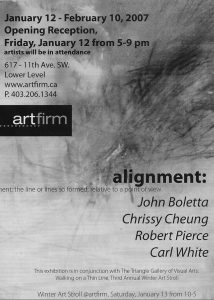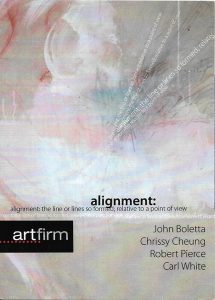 ---
2006
2-person exhibition: Surface Gestures with Verona Sorensen @ Artfirm, Calgary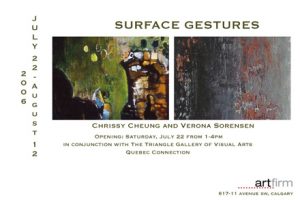 ---
Solo exhibition: A Visual Language @ Artfirm Gallery, Calgary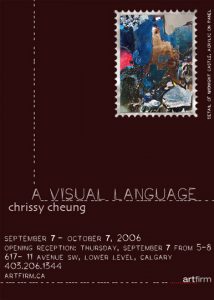 ---
Want to be on the mailing list? Please just write subscribe in the subject to chrissy @ observeroftime (take out the space)